Annie Hughes
Biographical information
Full name
Alternative name(s)
Age
29-30
Status
Physical Description
Gender
Female
Personality
Very hard-working, motherly, devoted, kind, nice, smart, intelligent, feisty, sweet, sassy, loving, fun-loving, slightly strict, protective, romantic, flirtatious, clever, friendly, polite, beautiful, voluptuous, helpful, snarky, independent, compassionate, funny, spunky, sarcastic, caring, level-headed, easy-going, naïve, sensible, sophisticated
Appearance
Slender, curvy, voluptuous (Hartman Hips), auburn hair, light skin, rosy cheeks, pink lips, dark green eyes, (work wear) pink waitress outfit, (morning wear) teal short-sleeved shirt, black skirt, black shoes (evening wear), blue turtleneck, purple apron, black pants, dark blue shoes
Personal Information
Allies
Dean McCoppin, Hogarth Hughes, Kent Mansley (formerly)
Enemies
Kent Mansley (present)
Chronological and political Information
Occupation
Waitress at the Chat n' Chew Diner
Animators
Voice
Jennifer Aniston (English) Noriko Hidaka (Japanese)
[Source]
Annie Hughes is a hardworking waitress of a local diner in Rockwell. She is the widowed mother of Hogarth Hughes and is protective of him as much as possible as a result. She is also Dean McCoppin's love interest and eventual girlfriend. She was voiced by Jennifer Aniston in the 1999 animated science fiction film The Iron Giant, serving as the tertagonist.
Official Warner Bros. Website Bio
[
edit
|
edit source
]
Hogarth's mother works hard as a waitress in the local diner. As a single mom, she's cautious with a trusting nature and strong moral fiber. She is Hogarth's friend as well as family and is always trying to keep up with her adventurous son's next move.
"Hogarth, we've been through this before. No pets."
"Hogarth, we've got to rent a room this year if we're gonna make ends meet, and no one wants to live in a place with shredded upholstery."
"...until you feel sorry for him and set him free... in the house. You remember the raccoon, Hogarth? [Shudders] I remember the raccoon."
"No scary movies, no late snacks, in bed by 8 o'clock. Got it?"
"Don't you ever do that to me again, Hogarth. I was so scared. I thought I lost you."
"Would you say grace, please?"
"That was, hmm... really unusual, Hogarth."
"Hughes. Annie Hughes."
"Isn't it wonderful, Hogarth? We finally rented our room."
"For some reason the army is in our front yard, Mr. Mansley."
"I see why Hogarth sneaks out here."
"No! No! Stop! My son is out there!"
"Shouldn't we get to a shelter?"
"Your best work yet, honey. No doubt about it."
Before Jennifer Aniston was cast to voice Annie Hughes, Jodi Benson, Sarah Michelle Gellar, Julianne Moore and Meg Ryan were all considered to voice Annie Hughes.
Filmmakers chose Jennifer Aniston, television's Rachel on the long-running Nielsen hit "Friends" and star of several feature films, as the independent Annie Hughes. "She's a play on the usual 1950s mom," says Abbate. "We updated her. She's single, working, young and attractive. She's far from your usual Donna Reed-type 'mom.'"
"The thing I liked about Annie and this project," observes Aniston, "is that it's not at all what's expected. She's more like a mom from the 70s than the 50s. She's very strong, like a mother tiger protecting her son, Hogarth. She's funny and really spunky, in that great kind of Laura Petrie way. There's also a tremendous heart to the story. I'm really happy to have been involved in the film."
<gallery>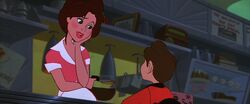 Community content is available under
CC-BY-SA
unless otherwise noted.